The most common reasons for picture resizing
The explosive growth of digitization has made picture resizing an online necessity. The emergence of social media platforms in the late 2000s was one of the first catalysts for the democratization of picture resizing. Following the trend, many service providers and independent developers seized the opportunity to offer their free online picture resizer apps to the masses.
Today, picture resizing has become synonymous with the principles of good web design. The most important thing to understand here is file size. While everyone loves to enjoy the high-quality pictures produced by the latest in photography technology, the massive file sizes that come along with better photo quality are actually usually incompatible with the digital space. It is nothing short of ironic then to see photographers being forced to compress and reduce the quality of their pictures just to get them on the web.
The reason picture file sizes are important is that each image needs to be fully loaded by your computer to display properly. Increasing the size and quality of the image only serves to increase loading times, which in turn lead to frustrating user experiences as web pages become clunky and slow. But there is a clear trade-off: resizing and reducing the file sizes and quality of your images allows you to display more images online than otherwise.
Plus with small file sizes, your page will load quickly, ensuring that you retain viewership and do not lose clients to frustratingly slow load times.
Another important bastion of the necessity of picture resizing today is e-commerce. Digital advertisers, e-commerce store managers, and photographers must carefully balance the need for high-quality product imagery to sell products with speedy and fast load times to ensure potential customer retention. Customers often like to zoom in on product images to get the exact details of what they are buying. Online sellers ought to be aware that uploading decently high-quality imagery is a prudent strategy for driving sales growth.
Now follow along as we examine some of the best picture resizer apps available online.
Free picture resizer: Resizeimage
Resizeimage is a great place to start for all your picture resizing needs. While a little more complicated then some other resizers, Resizeimage offers good optionality for such an easily accessible web-based application, however, users are limited to manipulating just one image at a time. Resizeimage offers you the ability to crop, rotate, make backgrounds transparent, optimize for quality or compression, and select different output formats for all your images in addition to its picture resizing capability.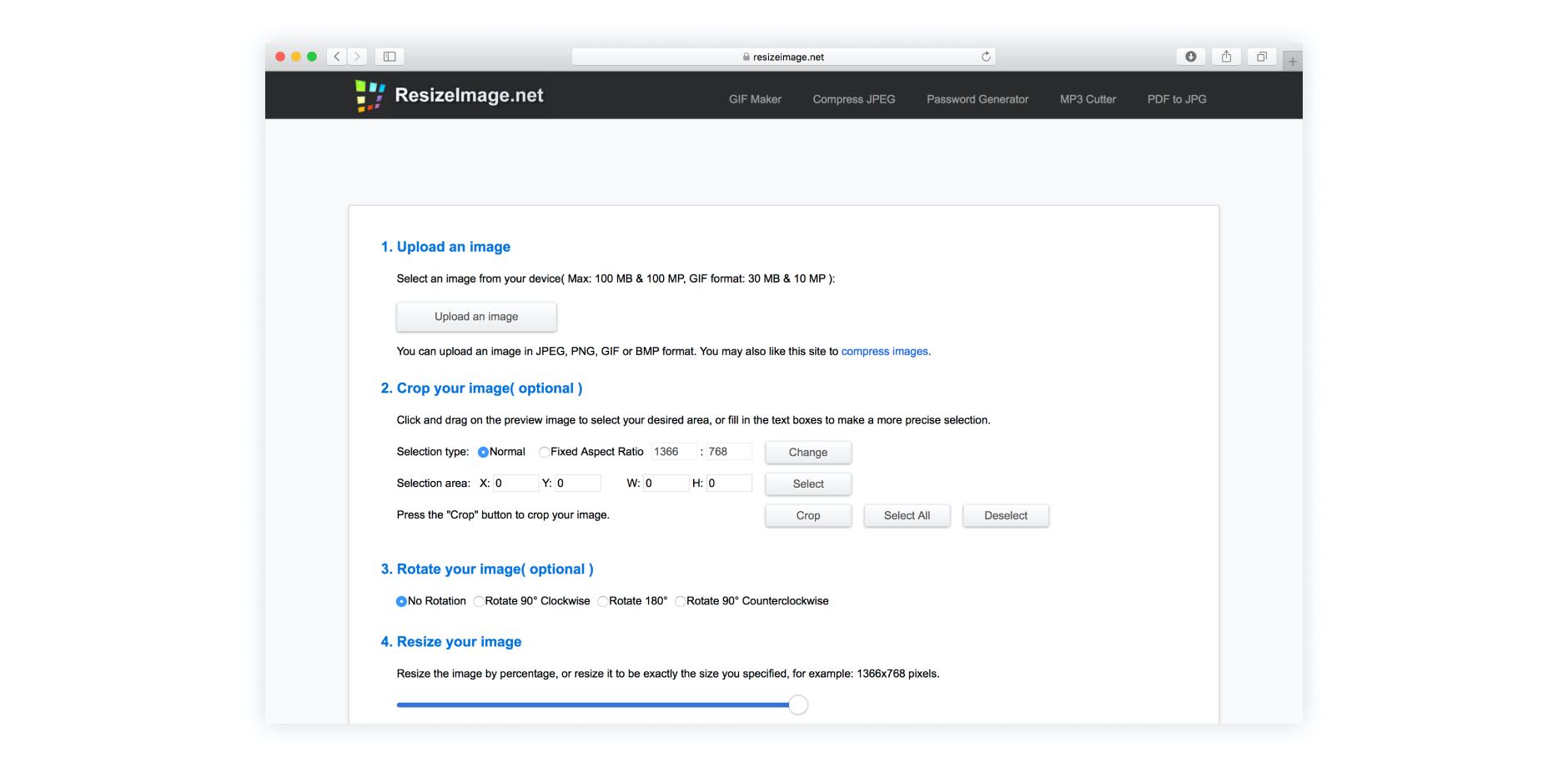 As a free online application with lots of optionalities, Resizeimage can't be beaten. However, for those looking for a simpler interface or who are only looking to resize an image, easier programs exist. It is for this reason that we must conclude that while Resizeimage is a great app, its interface and user experience leaves much to be desired.
🎖 Pros:
Free
Supports editing and resizing
No ads
🧨 Cons:
Cluttered user interface
Limited to one image at a time
Windows picture resizer: WebResizer
The great thing about online image resizers is that they work seamlessly with almost all operating systems. WebResizer is no different, offering a one-stop-shop for all your image resizing needs. WebResizer offers users a few different tools at their convenience such as the ability to effect rotation, tint, image sharpening, exposure, contrast, and color saturation as well as simple resizing. To access these tools on WebResizer, click the link above to open the homepage, then click "Resize Photos Here" to open the resizer.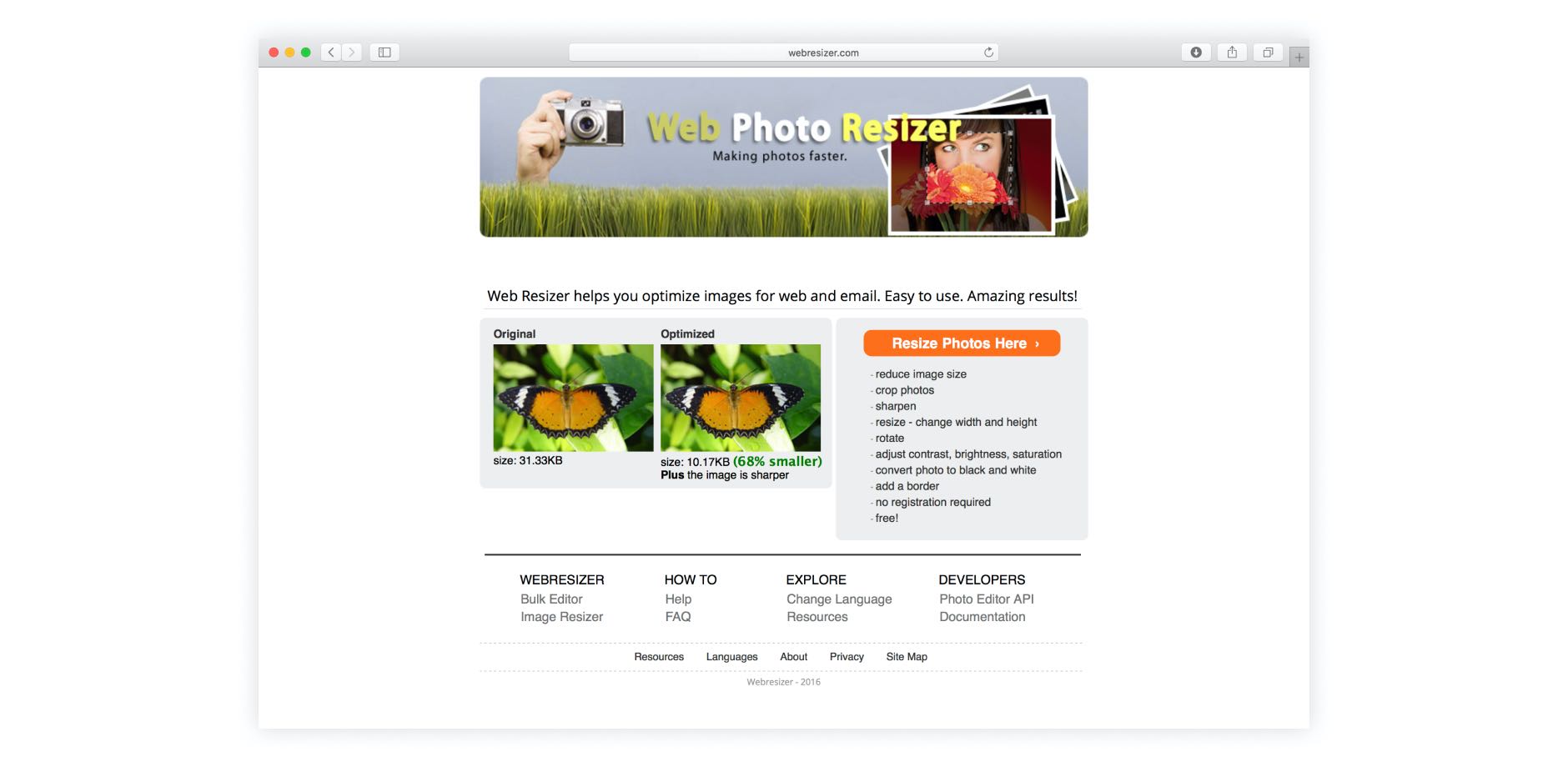 WebResizer is a good option for those with relatively simple resizing needs but who still appreciate a little creative flexibility. One downside is that WebResizer can only handle one image at a time, meaning that bulk resizing is not possible.
🎖 Pros:
Free
Supports basic editing and resizing
Simple user interface
No ads
🧨 Cons:
Limited to one image at a time
Picture resizer free: Rsizr
Branded as the intelligent resizer, Rsizr is an Adobe Flash-based resizer tool capable of handling all your resizing needs. More than just a simple resizer tool, Rsizr, offers users the ability to edit their photos with some basic photoshopping effects such as broadening and weight reduction through effective use of the scaling tool. It can also be used to remove picture objects or even create panoramas from standard-sized images.
Those with slightly more advanced knowledge of computer security will immediately question the intelligence of relying on Adobe Flash to power anything now that the plugin has been revealed as significantly vulnerable to various malicious intrusion types. However, if security is not a priority, Rsizr is still a powerful tool that remains relatively easy to operate.
🎖 Pros:
Free
Supports basic editing and resizing
Supports basic photoshop
No ads
🧨 Cons:
Requires Flash
Clunky user interface
Online picture resizer: PicResize
PicResize remains one of the most popular free online picture resizers out there for a good reason: its simple interface is extremely user-friendly. Even the most technology illiterate types cannot go wrong with PicResize. To use PicResize, simply upload your photo files from a URL link or directly from your computer, then follow the step by step instructions to resize. Another great perk of PicResize is its ability to resize many different photos at once, making its bulk resizing tool popular with many across the web. With almost two-hundred million pictures served, it's easy to see why PicResize is a popular choice.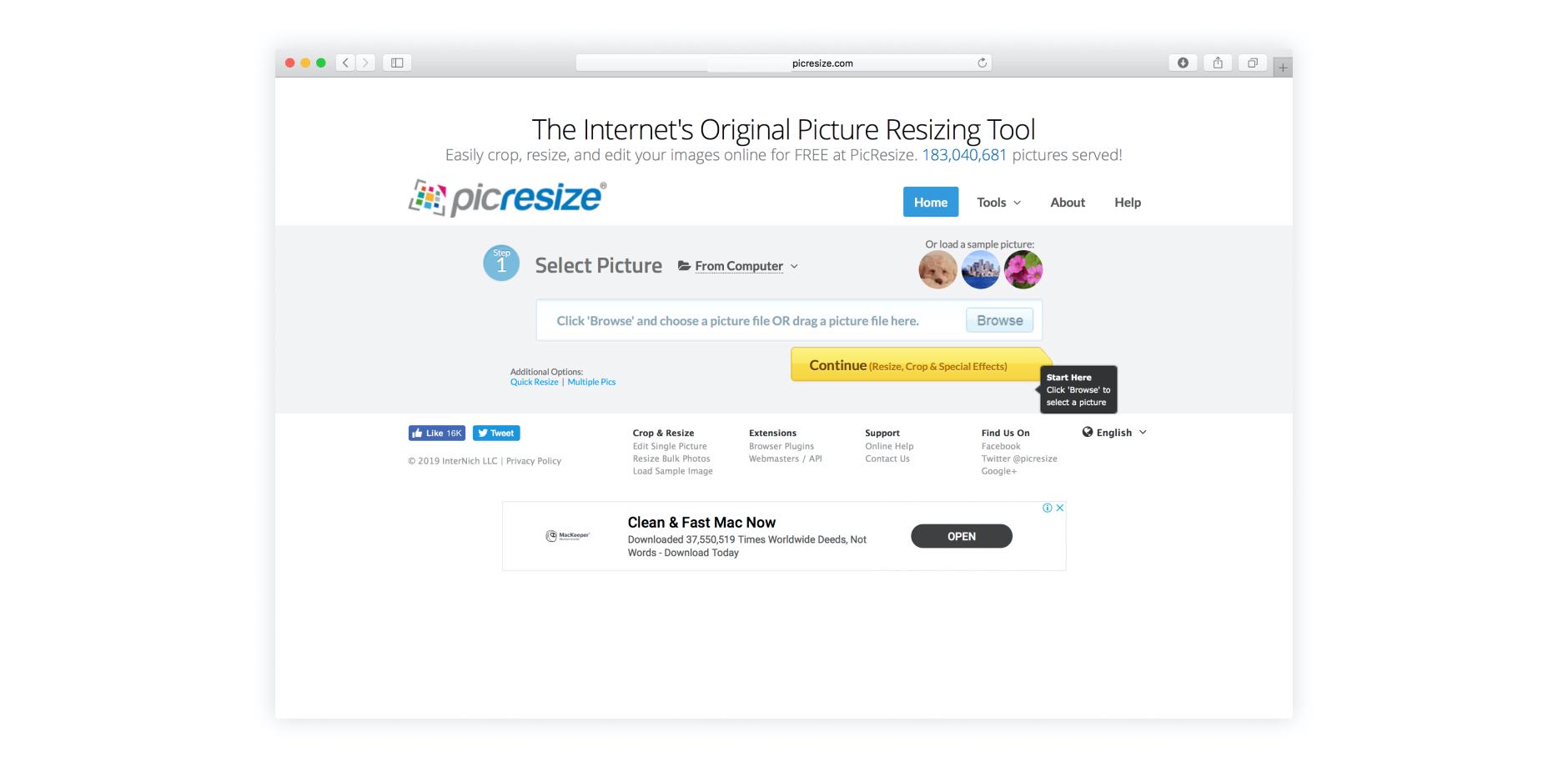 There are few downsides to PicResize, and while its no photoshop, it can handle nearly any image type, allowing you to save the results into one of the most common web image file types.
🎖 Pros:
Free
Supports bulk resizing
Easy step by step instructions
No ads
🧨 Cons:
Limited features beyond simple resizing
Picture resizer app: ResizePicOnline
ResizePicOnline wins the contest for best-designed picture resizer. Built with the user in mind, this online image resizer is pleasantly designed for everyday use with everyone in mind. It has all the versatility and optionality of any of the best online resizers out there while maintaining a sleek and modern interface. Users will appreciate ResizePicOnline's prioritizing of various user experience design principles.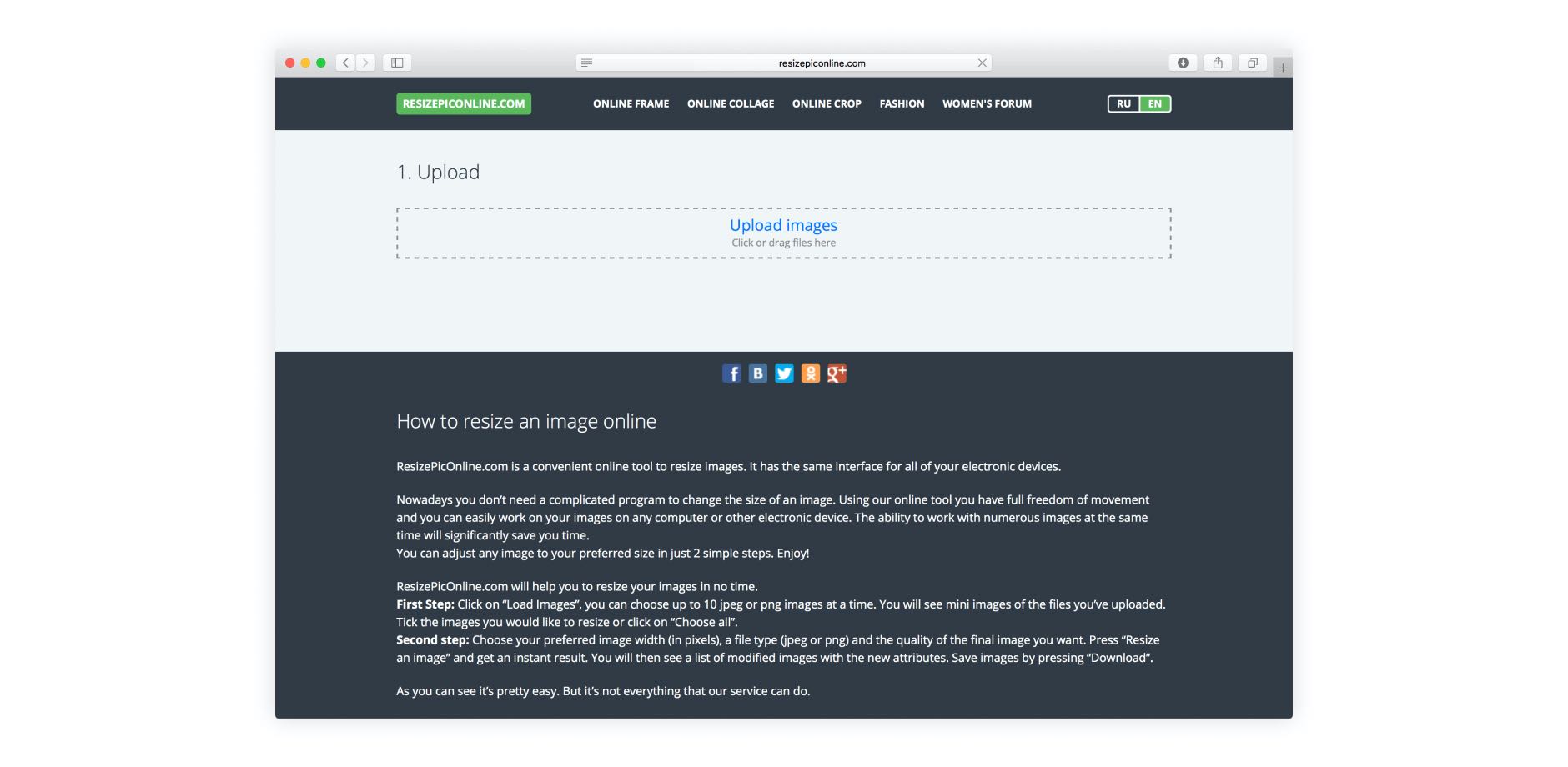 Another amazing perk from this app is its simple instructions on the homepage. Many resizers leave much to be desired in terms of process explanation or instruction, but not ResizePicOnline. The only drawback of this resizer is that it only supports two image file types, JPEG and PNG.
🎖 Pros:
Free
Great user interface
Easy instructions
Supports bulk resizing
No ads
🧨 Cons:
Limited to JPEG and PNG file types
Resizers to cover all your bases
This quick guide to image resizing has hopefully helped you narrow down your search for the best resizer. While there are many more resizers out there, we've selected some of the best. Happy resizing!